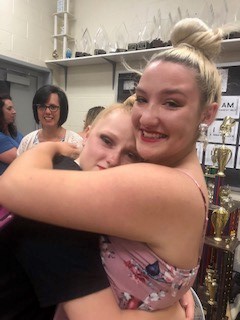 Dance is silly.
 10 years ago, I would've said this. Yep, I confess. I was a jock and thought that dance and cheerleading were silly, and they were certainly not sports. Then, thanks to Tim Borg, my daughter decided to try dance.
 This last weekend I witnessed exactly why I am so glad my daughter dances and why I now truly believe that dance can produce resilient, beautiful young ladies. You see, it is not what you see on stage, but what happens behind the curtain. Have we won awards? Yes. Did this past year produce a lot of 'number one's', overall champions, or studio excellence awards? NOPE. Is there drama, ups and downs, injuries, and frustration? TONS! Guess what? The girls persevered and overcame. I saw tears, lots of tears. Not tears from winning an award. Not tears from losing. Tears of love. Tears of reconciliation. Behind all the smiles, trophies (or lack thereof), there is mutual respect and love.
 I have seen older girls' mentor and encourage younger girls (my daughter being a huge recipient of this.) I have seen girls dance with their hearts on their sleeves and pouring it out through their dance on the stage. I have seen a group of 40 plus girls go on stage and put together the most outstanding, beautiful routine that even opponents stand and cheer. I have seen girls fall during their performance, leave stage in tears, and with their teammates help, return to stage overcoming embarrassment. They leave beaming with pride as they know they did it. I have seen friends turn into sisters.
 These girls don't dance for the applause or the award. I have been at competitions at 9pm on a Sunday night where the only ones in the audience are a handful of mothers. Our girls usually don't place. And when they do, they 'beat out' other teammates. Do they give up? No. They go right back out again. Why? Because they love it. I hear our girls cheer for each other backstage. I hear their chant before their production number, and it tears me up. I see them gather up, hold hands and pray before they go on stage. I see them laughing, holding hands, crying, joking, hugging…why? Because they love one another. You see, dance is not silly. I have seen shy, little girls who have been bullied at school, turn into confident young women dancing in front of hundreds of people. Smiling from ear to ear. I have seen girls with anxiety overcome their fears and go on stage to allow their God given gifts to be seen by the world. I have seen dances that are so personal, where not a dry eye exists when they finish. I have seen girls whose friendship has waned because of whatever, at the end of the season, hug and cry and allow those tears of love to heal. All because of dance.
 This is a personal blog. I can't thank all the girls that are older than mine as there are too many to remember and count. Many of them have graduated or will be next year. (That fact alone makes me start tearing up.) My daughter has four more years. There are going to be great moments of overcoming and joy; moments of sorrow; moments of frustration; moments of laughter and silliness and moments of disappointment. And I can't wait.
She is learning that winning isn't everything. There is no "I" in teamwork. And relationships trump awards.