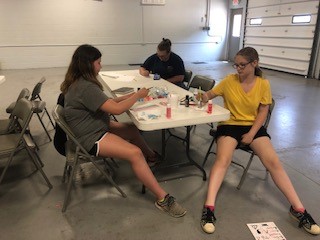 Hello Summer!
If you live in Northern Indiana you might not believe that it is summer. One day might be 75-80, the next 50 and you need your furnace! Either way, here at Reason 4 Hope, summer is in full swing!
Our first Camp Hope was a huge success! We might have only had 9 kids, but we had impactful sessions and did incredible work in the community.
DAY 1    Organizing and Cleaning at Paws & Claws Bookstore. A big THANK YOU to the staff: Tawny, Becky and Gloria.
Scavenger Hunt through-out Howe (including suckers from Horizon Bank and ice cream from Happiness is Ice Cream), collecting verses & quotes. To go with this activity, the kids used the letters of their name to represent a personal characteristic making a creative design on canvas. This is to remind them of WHO THEY ARE is not what they do.
DAY 2    Washing windows, sweeping sidewalks for businesses in Howe and decorating flower pots to give to local businesses as gifts.
Teamwork activity, followed by obstacle course. We then discussed causes of depression & anxiety and healthy coping skills. We delivered the finished flower pots and played at the Lima Brighton Park.
DAY 3    Cleaning at Lima Presbyterian Church. Thank you to Pastor Dave and his congregation for arranging this opportunity and providing a delicious lunch.
Team Building activities in the park followed by discussion on stress management and practicing relaxing through crafts, music, drawing, and building bird houses & lego characters.
DAY 4    Cleaning at the Warble House (an elderly couple outside Howe)
Kayaking down the Pigeon River thanks to Mongo Trading Post
Here are some shocking facts:
    Being on phones was never an issue. Kids want activity. We provided it.
     The kids never complained about the service learning projects. Kids want to make a difference and they feel good about themselves when they do.
    All of the kids were always polite and cleaned up after themselves. We had high expectations and they met them. Kids will do that.
     The kids want to talk about real life and share their struggles. We gave them the opportunity to do just that. Even when walking from place to place or sitting with them while they eat or create, we have intentional conversation to build into them and let them know an adult cares and there is love and hope out there.
      Each youth was unique in their own right, and most weren't good friends outside of camp. However, through work projects and team building exercises, relationships grew. It is our job as adults to give them opportunities to learn to work with others outside their circle.
        Each young person has a story. Although it wouldn't be appropriate to share each one's, I can tell you that from the outside, you wouldn't know. We don't know how someone feels, what they are thinking or how they are truly doing unless we give them a safe, caring environment where they feel open to share if they want.
I am so proud of each of the kids. It is such a joy to see how they grow through out the week. We did a pre-camp evaluation and just sent out our post-camp evaluation so we can truly see how impactful the camp was. We will stay in touch with the kids and continue to encourage them along their journey.
Ana Wahll was our high school counselor and she was invaluable! Thank you to Kimberly Hays for helping with transportation on Wednesday morning and for helping on Thursday. Thank you to Jody Blake and Paula Justice for helping with the scavenger hunt. Thank you to Pretty Prairie UMC for setting up the service learning opportunity with the Warbles. Thank you to Lima Township Community Center for the discounted rental rate for the building. Thank you to our sponsors – Thank you to the LaGrange County Community Foundation LIFE group for the grant.
We still have one more opportunity for your middle-schooler to attend a day camp! June 24-27 at Stroh, 9am – 3pm daily. Same idea- service learning in the mornings, followed by activities in the afternoon and a kayak trip to end the week. Contact Jamelle Godlewski at jamelle@thereason4hope.com or Kim Hays (or Jamelle) at (260) 408-5200 for a registration form! Meals provided and transportation available if needed.
Parent Testimonial: "Cassidy loved it! It's an amazing camp. We highly recommend sending your kids." – Michelle Kline
"My favorite part was painting at the church. I enjoyed volunteering and I never get to paint big projects. I also enjoyed the obstacle course and challenging myself to improve the second time." -Jeffrey Mullen, camper